Breaking 20 Minutes for 5k
The Question
This question is a double from derbydasher and Jed, who are both seeking to break 20 minutes for 5k:
"Hi. I've been running about four years now. A sub-20 5k has been in my sights for a while. After last year's London Marathon I actually ran a 20:07, which was my best ever, but have struggled to get much under 20:30 since then. I think of myself mainly as a marathon runner, but that 20 minute barrier is taunting me. Training usually involves each week: long run, one or two recovery runs, intervals with the club and a tempo run."
"Can you help me get under 20 minutes for 5k? My personal best is 20:18. I run parkrun every week, I do a hills sessions and I do a longer hour run on Sunday. Sometimes I do another run during the week but it depends how busy I am. Thanks."
Our Coach's Answer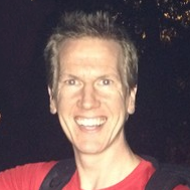 Simon
- Middle-distance runner and athletics coach
derbydasher, I strongly suspect that your best performance came off the back of your marathon training, which I assume involved higher mileage than usual.
Your training now seems to cover all bases in a week. There's nothing wrong with that and it actually works well for many runners, especially those who want to race regularly over a range of distances. But sometimes it can be useful to focus on one thing at a time, in order to maximise training benefits. This is the idea behind periodisation, where you break your training up into blocks, usually lasting several weeks, each of which has one or two types of training and goals. For example, you might spend four weeks where the focus is on mileage and endurance, four weeks where the focus is improving your threshold (for example, with tempo runs and cruise intervals), and then four weeks where the focus is on interval training and harder sessions.
Since you completed a marathon last year and you're doing a long run every week, your endurance is probably in a pretty good place. Here's a six-week plan, split into three training blocks. The first block puts the focus on threshold running; the second block on interval training, and the final block is just one week which gives you a chance to freshen up a little for the big day and focus on race-pace practice.
Be sure to warm up well before the threshold, interval and race-pace sessions. I also suggest you include three or four strides in your easier runs.
Block One (three weeks)

The focus of this training block is running at around threshold pace (approximately your one-hour race pace)/

Session one: Medium-long easy run
Session two: Easy/recovery (with strides)
Session three: 45 minutes @ 7:15/mile 4:30/km
Session four: 20-minutes @ 6:45/mile 4:10/km
Session five: 6 x 5 minutes @ 6:45/mile 4:10/km

Block Two (two weeks)

This training block is harder and you'll drop to four sessions a week in order to provide more time to rest after the harder sessions. If you do want a fifth run, then keep it easy and short.

Session one: 5 x 3 minutes @ 6:20/mile 3:56/km with 90 seconds jog recovery
Session two: Easy/recovery (with strides)
Session three: 6 x 2 minutes @ 6:10/mile 3:50/km with 1 minute jog recovery
Session four: Easy/recovery (with strides)

Block Three (one week)

The goal here is to ease back and get some race-pace practice in.

Session one: 5 x 2 minutes at race pace (6:27/mile 4:00/km) with 1-minute jog recovery
Session two: Easy/recovery (with strides)
Session three (two days before the big day) 5 minutes @ race pace (6:27/mile 4:00/km)
Sub-20 5k
Jed, I think you could quite easily break the 20-minute 5k barrier if you improved your endurance a little. Assuming you're running your parkrun at pace then two of your three sessions in a week are hard sessions. That ratio of hard:easy is far too high. For a runner completing three ones a week then really two of them should be easy and one of them should be harder.
After five weeks of the following you would really start to see an improvement:
Session one: long run. Start with 70 minutes (10 more than you're doing now) and add five minutes each week. That'll put you at 90 minutes by week five.
Session two: easy run. Start with 30-45 minutes and add five minutes each week. Include a few strides as well.
Session three: weekly alternation of threshold and intervals.
Threshold session: 20-25 minutes @ 6:45/mile 4:10/km (a parkrun at this pace would be ideal)
Interval session: 6 x 2 minutes @ 6:10/mile 3:50/km with 1 minute jog recovery
Then follow the final week as described above for derbydasher.
The best of luck to you both!
Our Member's Answer
December's member's answer comes from Harvey.
Harvey
- runner of all distances
"I hover around the 20-minute mark, sometimes going under and sometimes not, so I may be the perfect person to answer this question. For me, using a pacer was the solution to breaking 20 minutes for the first time. I have a friend who easily runs 18 minutes and was happy to help me out. Only having to think about running and not worry about checking my watch all the time really helped. Once I'd done it once I found it easier to keep going back. My PR is 19:22."
We agree that pacing can be extremely helpful. Thank you, Harvey.